In honor of
Marvel's
belated release of
New Mutants Classic vol. 3
, here's a classic of my own-- an appreciation of one of the most marvelous mutants ever, Dani "Psyche/Mirage/Valkyrie Jr./Nudist"
Moonstar
. I wrote this post thousands of years ago, when comics were
chiseled
out of stone instead of printed on paper or posted on the Internet. So... I suppose sifting the soil and brushing off the years of accumulated grit in an
archaeological
manner also honors the return of globe-trekking adventurer (and casual Dani
Moonstar
enthusiast) Indiana Jones. Not to mention his fabulous Kingdom of the Phony-Baloney Fake Crystal Skulls.
When we first meet Dani
Moonstar
in
Marvel Graphic Novel 4: New Mutants
, she's a rough around the edges tomboy who enjoys romping in the mountains with her mountain lion friends. And occasionally threatening to plunge Black Eagle's war-knife into craven hearts.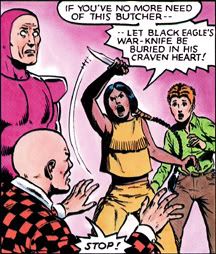 And she has a good reason: the guy in the magenta armor killed her grandfather, the afore-mentioned Black Eagle. But notice how she demonstrates her nascent team leadership skills-- she prefaces her threat with the phrase, "If you've no more need of this butcher --" That's right, like all great leaders, Dani is nothing if not pragmatic. Under normal circumstances, Dani would certainly stab the man's "craven heart," but if the Professor and her newfound friend Rahne object from a continued butcher utilitarian standpoint, she'll defer to their wishes.
Because she's cool like that.
Soon enough, Dani and
Rahne
make the journey to the X-Mansion in
Westchester
, New York and join Charles Xavier's new team of super-powered teens, the New Mutants. And it's in their company that Dani begins to explore self-expression not via heart-stabbing, but rather through fashion. Not content with the basic black and yellow school uniform, she customizes her with some culturally appropriate Native American details. Namely, a turquoise and silver belt, and some fringed deerskin boots.
Soon after, the entire team is captured by anachronistic Roman soldiers and taken to Nova Roma... where again Dani is rendered unconscious and re-clothed:
Coming back to earth, Dani decides it's time to confront the demon bear that slew her parents. In order to do this, Dani must honor her Cheyenne ancestors by donning their traditional battle-wear- warpaint and a superhero costume.
It's amazing what you get when you put good artists on a series.
There's an old saying: Keep it simple, stupid. Someone got a little mixed up and thought it was "Keep it simply stupid." Evidently, all the good ideas had been completely used up by the time the Mutants got their own personalized suits. These uniforms are so ugly and garish, they actually only rarely wear them, and only for punishment when they bomb a test or put a scratch on one of the school's fleet of sports cars.
But the Mutants and their fashion disaster ways could defeat any artist. Even the normally brilliant Alan Davis tries to make them look individualistic and cool and fails miserably.
Purple, red, pink and orange. The colors of ass, 80's style.