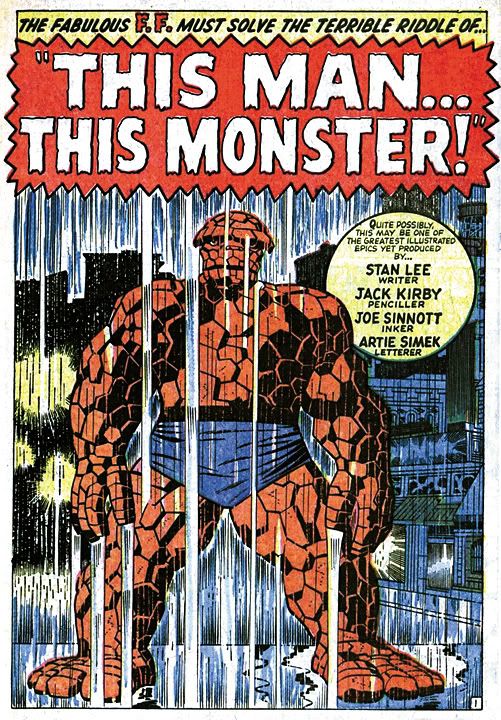 Splash page from
Fantastic Four #51
(June 1966). One of Marvel's greatest single issues. The Fantastic Four had just faced off against the god-like Galactus and handed him his magenta-and-purple ass. While his teammates and the rest of the world celebrate, Ben "The Thing" Grimm turns his gaze inward.
Feeling sorry for himself, he doesn't even bother to change out of his superhero swimsuit or stop for a sandwich before heading out into the rain to walk around, converse sullenly with well-meaning cops, then accept coffee from a weird bald guy with a prominent brow ridge.
The bald guy is pissed at Ben's buddy Reed Richards. Fortunately for him, the Thing exists. Because without the Thing and their convenient skeletal similarity, his transformation into the Thing's exact duplicate would prove impossible! Ironically, there's one man in the world who actually wants to be the Thing, while the real Thing would do anything- short of suicide- to escape that identity.
Anonymous Bald Freak goes to the Baxter Building where his enemy Richards is planning to invade the Negative Zone tethered to a simple nylon rope he bought at the Yancy Street Hardware Store, and wearing only a goldfish bowl for protection. Things end badly but not before Anonymous Bald Freak learns that all Things (even faux-Things) have an innate quality of heroism and self-sacrifice.
Interestingly, in a story about the Thing's wrestling with his own identity, we never learn the bald guy's name or exactly why he resents Reed Richards enough to want him dead. Even Richards himself hasn't a clue to who this guy is or what he might've done to piss him off. By the time the Thing is back his old rocky self, he's not really able to shed any light on the guy's story, either. Lessons learned? Ben Grimm's niceness rubs off even on jerks, and Reed Richards has a history of alienating people and making enemies.
Also, Stan Lee's dialogue perfectly balances the mundane and the sci-fi exotic. And Kirby's pencils follow suit. However, this is one of those issues-- despite what the credit blurb claims-- where Kirby did much more writing than Lee. It's full of Kirby-esque moments and moods that would become more familiar to the fans when he started garnering writing credits for himself.