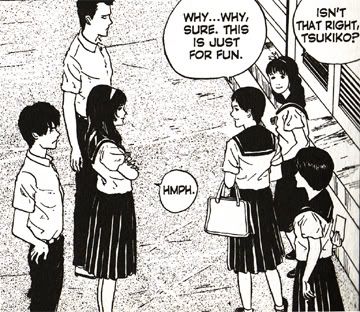 While we're on the subject of Japanese horror, the
Tomie
film series is apparently as unkillable as their eponymous villain.
Tomie Unlimited
is the newest offering from Toei Company, LTD. and it seems to be at least loosely based on the "Tsukiko" stories from Junji Ito's manga. This makes me happy, because I'm a big fan of those particular Tomie stories and of the character Tsukiko, the cheerfully amoral purveyor of candid photos of cute guys she sells to the girls who have crushes on them.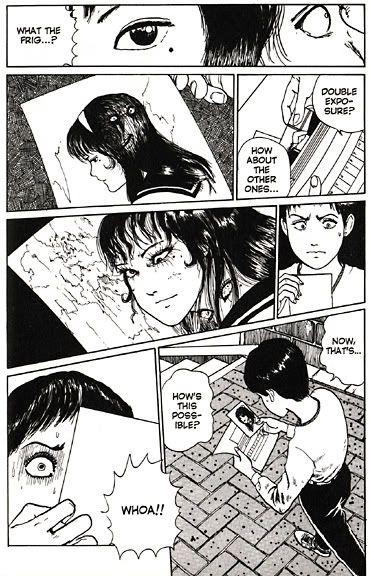 While the movie Tsukiko eschews her comic book counterpart's pixie cut and happy-go-lucky capitalist demeanor, Miu Nakamura makes quite a convincing Tomie. Several of the scenes from the trailer look astoundingly like panels from Ito's stories. It would be too much to ask for a completely faithful adaptation-- here, Tsukiko is Tomie's little sister rather than simply a classmate. However, the publicity materials promising a Tomie who "
reveals her true face only when she is with Tsukiko
" make this the most intriguing series entry in quite some time.
In the comic, Tsukiko makes a fun and vivacious enemy for Tomie, and Tomie's position as the head of her school's Public Morality Committee provides a bit of ironic counterpoint to Tsukiko's scheme. Just as Tsukiko abuses the privileges that come with being a member of the photography club-- access to a dark room and materials to make her illicit yet lucrative prints-- Tomie soon has her own club lackeys pursuing her unfortunate enemy. And it becomes apparent that Tsukiko's crimes pale in the face of Tomie's monstrous true self and the bloody murders she causes during their personal war.
The stories also benefit from a unity of setting, unlike the other
Tomie
tales which are only loosely connected. The idea of a beautiful yet thoroughly evil young woman who drives her lovers to madness and murder-- and yet cannot be killed herself, no matter how hard everyone tries-- is good for a few chills here and there, and benefit from Ito's trademark gross out scenes. But by grounding her in a specific locale and taking some time to develop her victims Ito creates a cycle of stories that have no problem standing alone. If character development is Ito's weak point as a writer, with the introduction of Tsukiko he solves this problem, and it helps bring Tomie herself into focus.
Even if you probably won't want to see what develops as a result. Isn't that right, Tsukiko? Tsukiko? Oh yeah, the school officials suspended her. Oh well. That gives her plenty of time to get to know her new best friend, Tomie. Here's Toy Missile, one of my favorite Japanese bands!