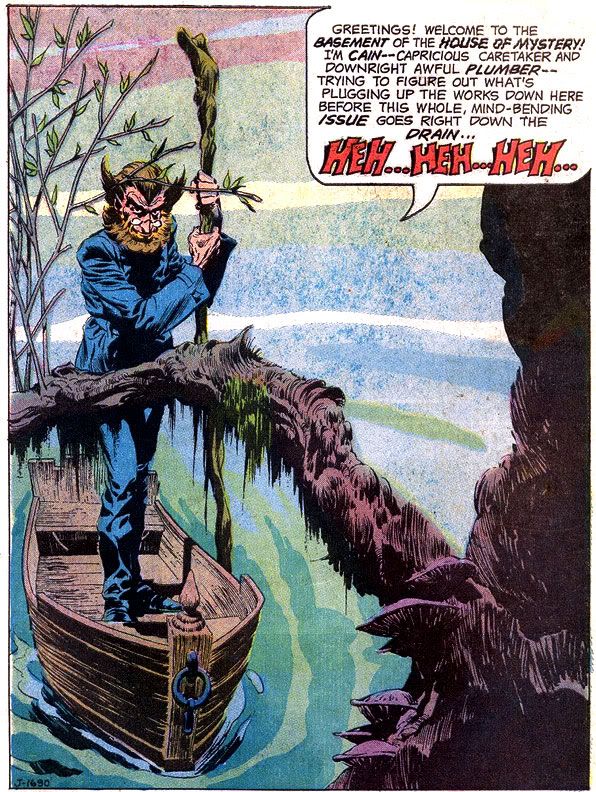 How about that, eh? It's Cain, poling his little boat through a swamp-- a haunted swamp, no doubt. Or basement. Haunted basement. Well, wherever it takes place, it's a very nice splash page drawing by Bernie Wrightson, published in
House of Mystery
#205. Wrightson's career began at DC the same year I was born so I've had a lifetime to associate him with the finest in horror comics illustration. Over that time, I've dug many artists who've excelled at horror: Richard Corben, Nestor Redondo, Umezu Kazuo, Ito Junji, Michael Wm. Kaluta, Joe Orlando, Jack Davis, John Bolton to name a very few. All those EC cats who worked for Warren Publications. Then there are all those Italian guys who drew those bizarre and erotic comics where characters are often naked or rotten or both covered (so to speak) over at
The Goovy Age of Horror
.
You can find horror artists better at anatomy and with slicker finishes, but few who match Wrightson's ability to concoct instantly iconographic horror images, with gobs of chilling atmosphere and sinister mood to spare. Throughout, Wrightson has used varying approaches to his finishes-- from feathering and modeling in ink resembling the classic works of Graham "Ghastly" Ingels and Frank Frazetta, to etching-like fine lined hatching to rich ink washes. Whatever his approach, Wrightson kills. Figuratively.
My first encounter with Wrightson was his work on
Swamp Thing
, no doubt in some house ad or other. I didn't read that comic until DC released the second volume when I was a teen. By then, I'd seen this choice Wrightson image:
EEP!! The worst tricks or treats ever! And it's the kind of thing that sticks with you when you're an imaginative and impressionable young doofus looking for the latest Hulk and Spider-Man stories. Now I think what a good thing for that axe murderer he's so beefy-- he's wearing about 40 pounds worth of human heads. He's going to need those powerful leg muscles if he ever hopes to add those two kids' noggins to his collection.
That came out about the time I read
Creepshow
. Soon after that I contaminated my brain with the issue of
Bernie Wrightson: Master of the Macabre
containing the infamous "Jenifer," one of the sickest stories I've ever read. It affected me so badly I had to give the comic away the same afternoon I read it to a less-squeamish friend, and yet I still lost sleep over it that night. Of course, its hold on my imagination proved too strong over the years. Every so often, I'd get the urge to draw Jenifer's twisted face in the margin of my notebook page, and I'm pretty sure I drunkenly described the story to various people whenever we started talking about things that frightened us as kids. I finally tracked it down again and it proved every bit as disturbing as I remembered. When a story does that to you, someone, somewhere, has done his or her job!
In this case, that person is Bernie Wrightson. Well, Wrightson and writer Bruce Jones.
Here's another wicked Wrightson splash: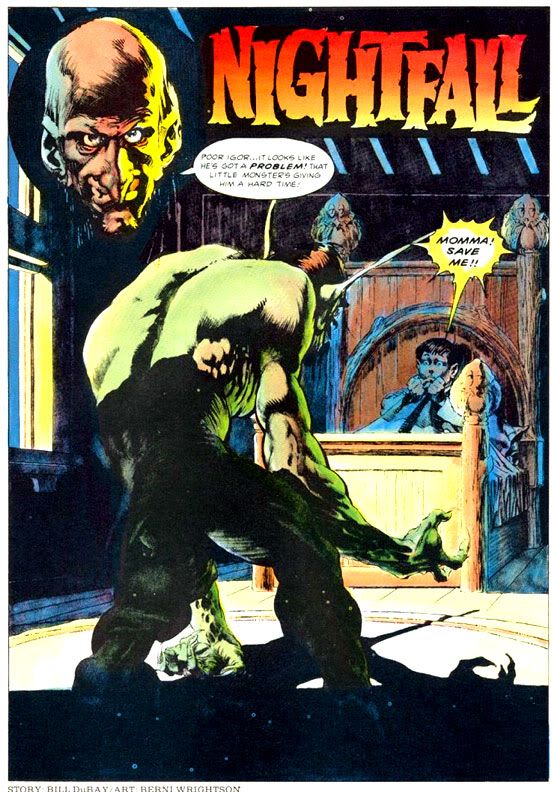 Much like Jones's tales, Bill DuBay's scripts gave Wrightson the opportunity to make our nightmares come to life on the magazine page. "Nightfall" first appeared in
Creepy
#60 (1974), and features a kid bedeviled by sinister goblins who come into his room at night, only to retreat whenever his increasingly exasperated parents come in to check on him. DuBay's script accurately captures the way a child's imagination transforms shadows into malicious monsters, and the impossibility of getting this across to well-meaning but lunk-headed adults who just want a peaceful night's sleep. Wrightson's creatures cavort and caper in the moonlit bedroom in a way that's dreamlike yet completely convincing.
Reminds me a lot of those nights I grew up experiencing thanks to Bernie Wrightson's art! And speaking of disturbing, here's Hanatarashi's legendary 1985 "Bulldozer Gig" in slideshow form:
Eye, that's what I call music!