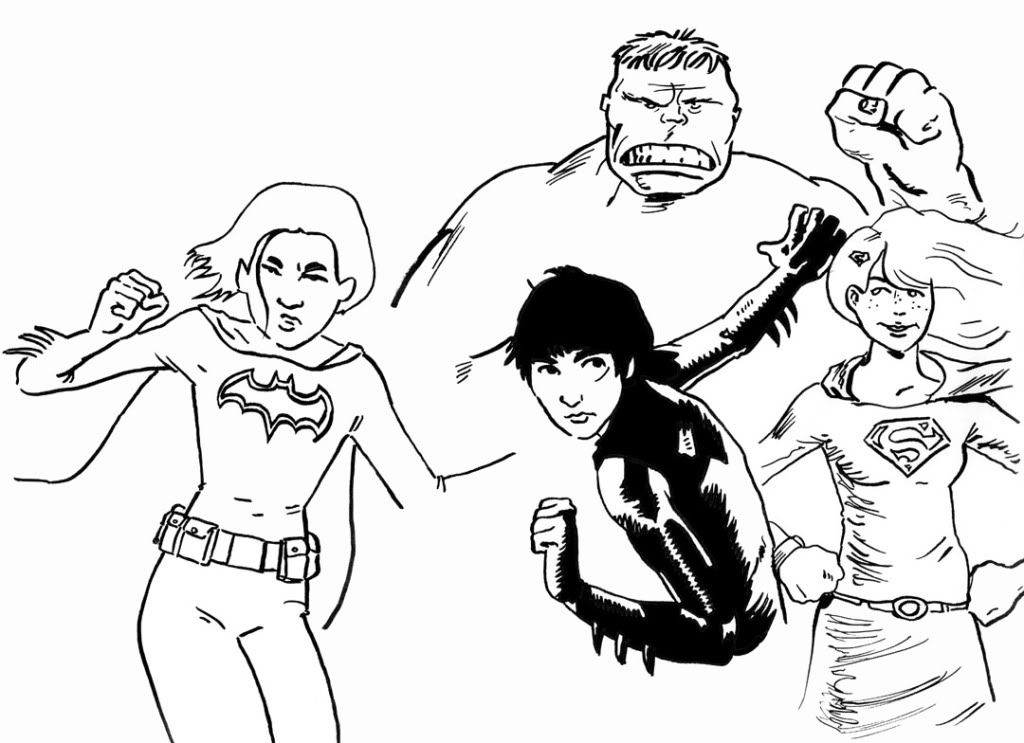 Here's another sketchbook page. I seem to draw Cassandra Cain, Supergirl and the Hulk pretty often. I did this freehand with a Kuretake Fudegokochi brush pen on a sheet of marker paper. Batgirl on the left is apparently pitching some kind of fit; she's really angry about something. The center Batgirl shows a zen-like calm, but I'm not sure about the weird feathery line I gave her shadowed areas. What inspired that? The Hulk looms overhead like something she's dreaming. The way I attached his hand to his beefy wrist isn't really working. And then there's a cheerful, freckle-faced Supergirl with goofed-up shoulders. All that modeling I did on her right side (left to us!) was my attempt at emulating the awesome Nick Cardy; it came out vaguely Dr. Seussian, though.
Cass is in her DC Batgirl suit rather than the one I made up for her. Slap a pointed mask on her and she's practically Black Bat. I'm happy DC has their sales up, and I'm pretty pleased
Cass will "appear in Batman, Incorporated in a very big way" along with Stephanie "Spoiler/Robin/Batgirl" Brown
. Whether or not I'll bother to read it is another story. The overall aesthetic of what they're doing these days just doesn't interest me and I find I can't really get excited about it, and we're always a year or two away from a new universe-changing Crisis. I'll be in Japan where American monthlies are hard to come by, but maybe I'll download a digital copy of
Batman, Incorporated
from DC when Cass reappears. Then again, maybe I'll forget.