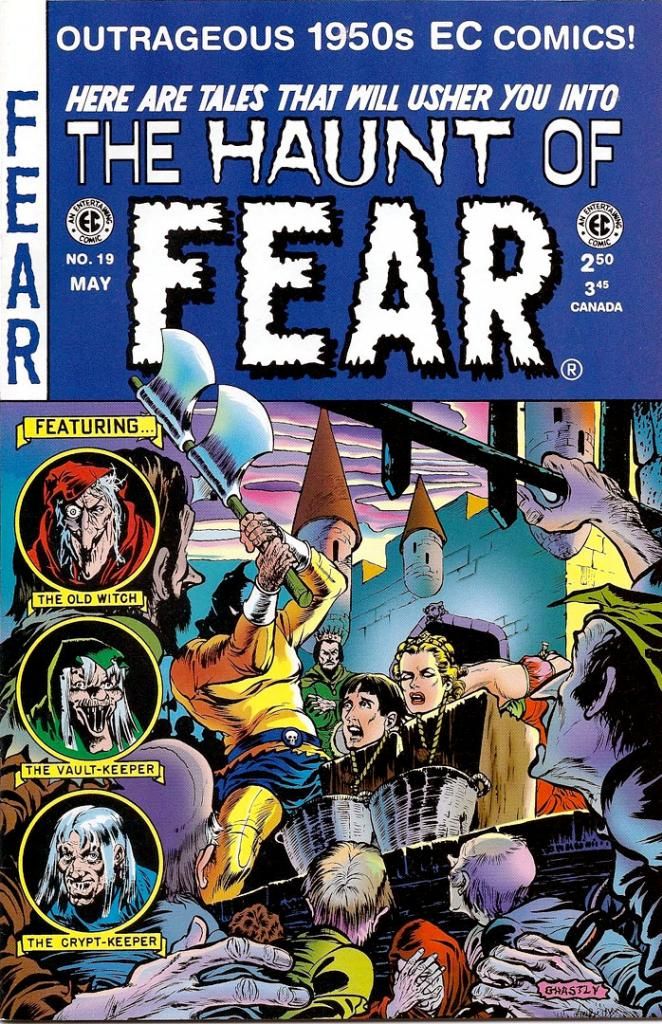 No, they didn't ruin baseball. That's just me trying to have a little fun and shake things up a bit. If anything, they made baseball better! But EC did get itself into hot water with the government over "Foul Play," a story appearing in
Haunt of Fear
#19 (May-June 1953). Dr. Frederic Wertham used it as an example of horror comic nastiness in his book
Seduction of the Innocent
and then did it again during his afternoon session
testimony to the 1954 Senate Subcommittee Hearing on Juvenile Delinquency
.
The story is about Central City's Herb Satten, an unscrupulous pitcher who wants to help his team win the pennant by murdering the Bayville's star second baseman, Jerry Deegan. After all, this Deegan slugger led the league in home runs all season and he's up the next inning in a tight game. It stretches credulity a bit. Satten kills Deegan by poisoning his spikes, then allowing himself to get hit with an inside pitch so he can get on first, attempt a steal then slide spikes-high and slash his victim. He's thrown out and it looks like a bonehead play, but it all works out. Satten kills his man and Central City wins. This leads to the pitcher's grisly comeuppance the night before the next season's opening day.
And one of the all-time great gross-out scenes in horror comics history. The murdered man's teammates literally rip Satten apart late one night and use his body parts to play a moonlit intrasquad game. Complete with a complicit umpire. That also stretches believability, but not so far as the poor pitcher's intestines, which serve as foul lines up the first and third base paths. The grisliest detail is the catcher's using the Satten's chest as his own chest protector. You wanna wear part of a human body even if he is a sorry murdering cheat? What is this, the Ed Gein League?
They also incriminate themselves by burying him under the pitcher's mound and inscribing the rubber there with "Herbert Satten. Pitcher. Murderer. R.I.P."
Rest in pieces, baby. Rest in pieces.
Writer: Al Feldstein/Artist: Jack Davis
Well, they were angry ballplayers and probably didn't think through the consequences. The ironic thing about "Foul Play" is, it may have been notorious at the time but the guy who drew it is one of the nicest, most gentlemanly people you'll ever have the privilege of meeting. If you're so lucky. I had a chance to phone interview him way back in 1996 for a class project and I came away in such a good mood because he was so jolly and generous. He answered even my stupidest questions with patience and good cheer.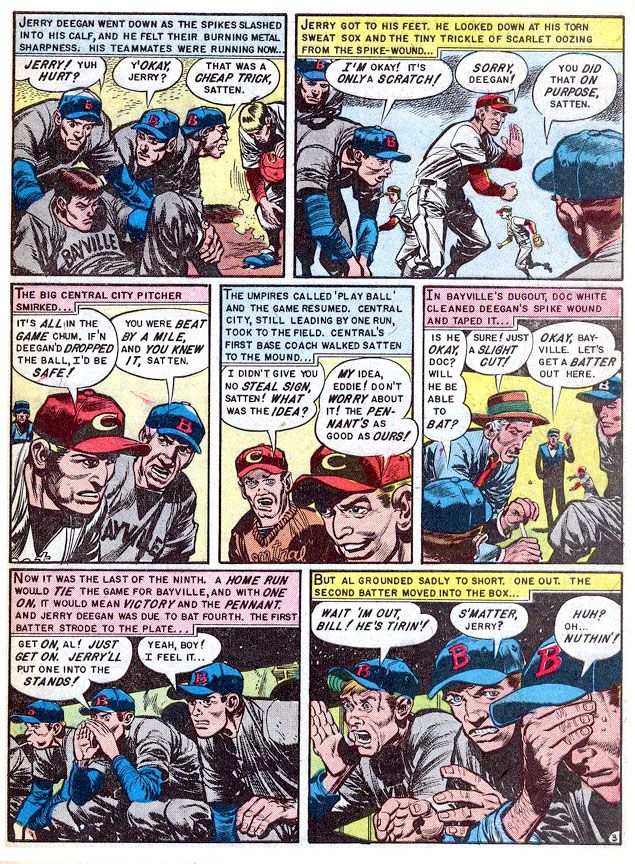 Writer: Al Feldstein/Artist: Jack Davis
I'm talking Jack Davis, the dean of American caricaturists. This story is right in his wheelhouse, so to speak. Davis is a master of sports cartooning, able to twist his loose-limbed figures into whatever pose necessary to show the physicality of sports. Baseball, basketball, football, late night murder, these are things Davis visualizes so well. Obviously made a huge impact on Dr. Wertham and the guys up on Capitol Hill, huh?
Writer: Al Feldstein/Artist: Jack Davis
I loved Davis' work before I ever read this story (although I'd heard rumors of it for years and they always chilled me to the bone). He drew magazine covers, movie posters. His art came into our house on television in the form of character designs for the
Jackson 5ive
Saturday morning cartoon. As a University of Georgia graduate, I've seen dozens, if not hundreds, of Davis-drawn Bulldog athletes in motion, with his characteristic lanky body language and large, articulated hands. Gorgeously rendered in loose, appealing brushstrokes and then watercolored to pop from the page of whatever book, calendar or postcard they adorn. His 1950s horror work benefits from the Davis approach, one that exaggerates reality for comic effect. So when you see a Davis severed head, it's not grotesque no matter how decayed it might be. It's sick... but in a tasteful way.
Writer: Al Feldstein/Artist: Jack Davis
The Senate Subcommittee Hearing people must not have felt that way, although I believe William Gaines explained it quite well in his testimony. This is gore in just the right amount. There's nothing gratuitous about it, but it has to have impact. If you'll notice, too, colorist Marie Severin gives those panels a blue-yellow complementary color scheme rather than one that emphasizes its fleshy or bloody qualities. This makes it explicit without going over the top. Not for the squeamish, certainly. But it's right in my wheelhouse, too. Jack Davis is an American treasure, baby. And so is Marie Severin. No doubt about that.