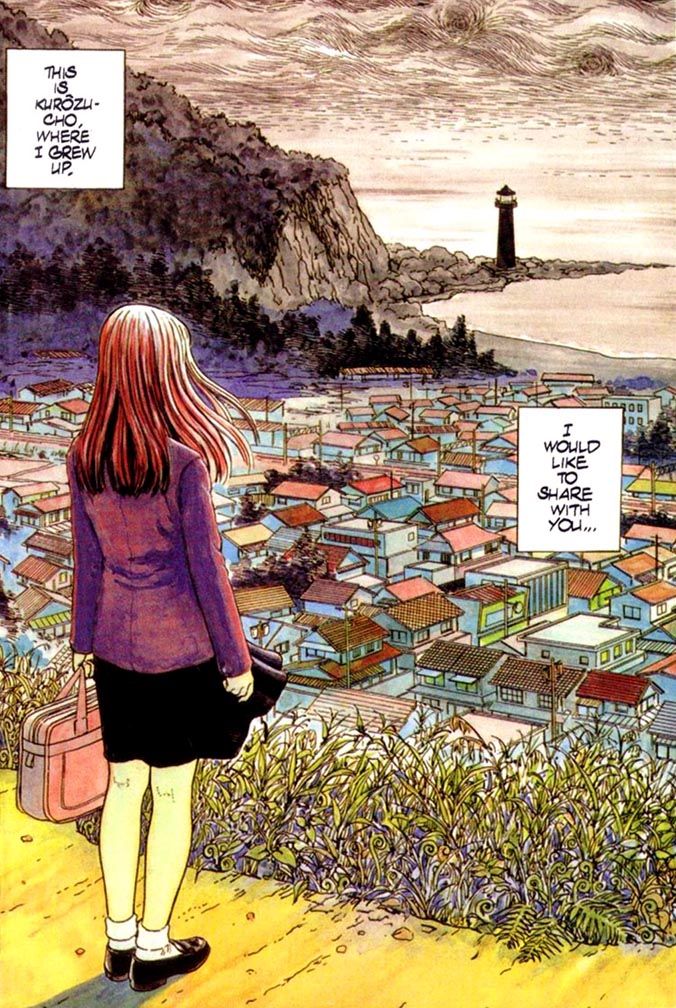 I know nothing of this Herald Scotland site, but I salute the good (or foul, depending on your perspective and whether or not you go through life talking like one of EC Comics' horror hosts) taste of Graphic Content writer Teddy Jamieson
. Not only does Jamieson quote
Halloween III: Season of the Witch
, but he manages to include Junji Ito's horror masterwork
Uzumaki
on the list. At Paste Magazine you can read a
similar 13 item list called "13 Terrifying Modern Horror Comics,"
which I saw posted by Fantagraphics on Facebook earlier this week. That one is very Western comic-centric and the choices more conventional than Jamieson's, but they overlap, too. I admire Jamieson for having the guts to lead off the list with a most personal choice. He also puts Jack Chick tracts on his list. I remember coming across those from time to time when I was a kid and he's right. They're scary! At least they were when the threat of hell or running into a hippie mocking my religious beliefs with a dismissive "HAW HAW!" were the worst things I could imagine.
Personal choice is appropriate because our most frightening comic is the one that affects us most regardless of its wider reputation. I found myself exposed to a great many shitty horror comics when I was a kid and quite a few managed to genuinely frighten me even with crude art and strained writing.
Sometimes even genre doesn't matter.
Jack Kirby scared the snot
and
the buggers out of me with his chilling final image in
Kamandi
#20 of our long-haired hero alone on a ruined pier. I mean utterly alone, overlooking what I assumed at the time to be a monster-haunted Lake Michigan. No one to help him, not the indifferent gulls circling overhead, certainly not the angry gorillas ravaging the robotic theme park Kamandi had just escaped. No humans, just robots going through the motions of 1920s-era Chicago gangland clichés. Poor lonely Kamandi. The imagery was bleak, the closing copy promised more horrors to come. Shudder!
Another story that gave me the willies was "Evolution's Nightmare" in Marvel/Curtis
Planet of the Apes
#5. It opens with humans and gorillas fighting
El Cid
-style in a desert wasteland, then ends with radioactivity-devolved apes and men duking it out with rocks and clubs in a bomb-ruined San Francisco. They even kill the two main characters (who spent the intervening pages painfully learning tolerance) before grunting and screaming in mindless hate at each other from atop wrecked cars full of skeletons and across piles of shattered asphalt. Doug Moench's depressing narrative captions inform us everything moves in circles and those circles stink. Artist Ed Hannigan's (Jim Mooney inks, by the way) double-page spread of piles of dead warriors with their eyes lifelessly open only added to the lingering fear instilled in me by this creepy story.
Obviously, neither of those two are horror stories. They're both rough-house science-fiction adventures. You can find horror-like frights anywhere. In a plot twist in an otherwise innocuous superhero book, gazing at you from a house ad in a humor comic, jumping out at you from behind a brick wall on a sunny street in Riverdale, USA.
Or in an actual horror comic. Like
Uzumaki
. Serialized in
Big Comic Spirits
(it's a
seinen manga
, or dude's comic, so be careful opening that link) from 1998 to 1999, Ito's
Uzumaki
is the greatest horror story ever published in comic book form. I'm comparing it to everything from Charles Burns'
Black Hole
, which made Fantagraphics' list (and is a moody, troubling work in its own right) to EC and every horror comic in between. Out of all the fright fun I've had reading horror comics, only
Uzumaki
gave me feeling of truly dreading the next development in a story in my life. Of doom. Or of being genuinely grossed out by so many drawings in one place.
Uzumaki's
dreamlike inevitability remains after you close the book having followed its main characters deep into the heart of ancient fears.
Uzumaki
tickles your fright bone the way a cold wind from across the dry grass of graveyard might gooseflesh your arms. Bruised clouds passing overhead like witches, their shadows falling around like concentrated night, on the move, looking for you. Dead leaves hissing at you along the curb. Hurrying you homeward where you face a dark, empty house where the rooms echo only with your voice.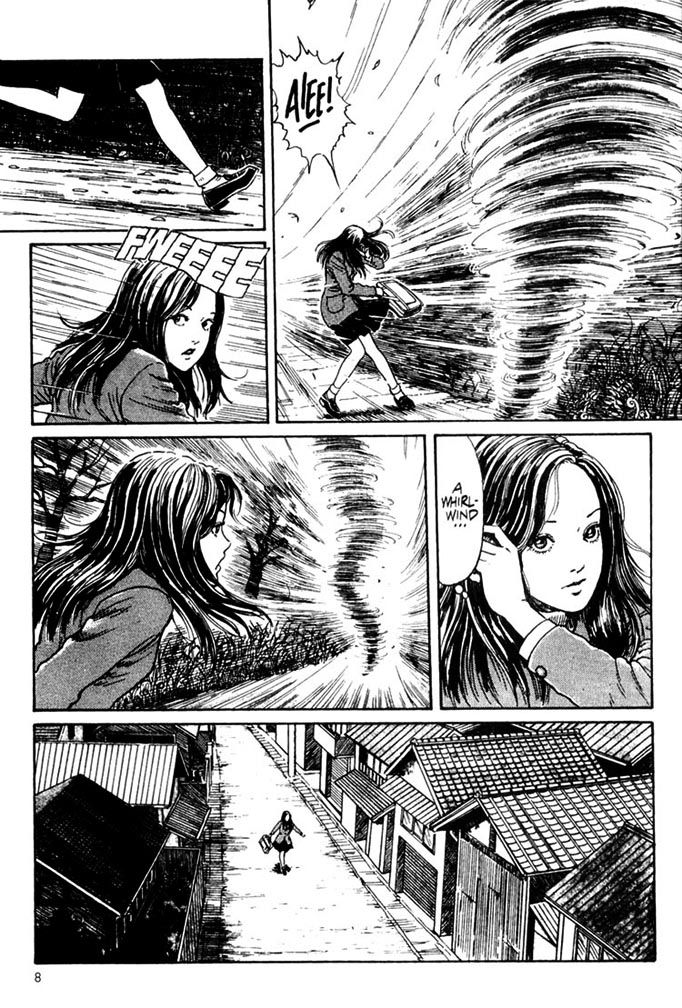 Story and art by Junji Ito
And the soft footsteps of another. Though nobody else is home.
Here's something that's not frightening. It's a performance by Hamamatsu's own Spookey!