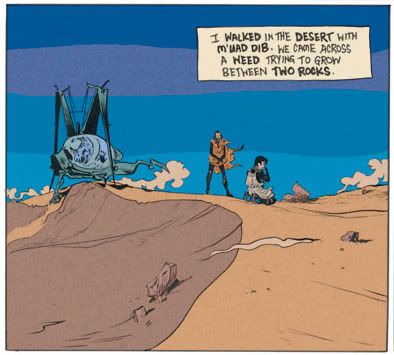 In a titanic clash of two mythic Pauls,
THB writer/artist Paul Pope (yeah, he's done other stuff but I really dig me some THB) takes on intergalactic space messiah/part-time sandworm wrangler Paul Muad'Dib
. The only flaw in this gorgeous page is Pope's eccentric spelling "M'uad Dib." Pesky apostrophe! Whenever I type Muad'Dib's name (which is surprisingly often), I always have to do a half dozen or so Google searches to make sure I put it in the right spot.
Better than spelling it
"Maude'Findlay,"
I suppose.
Pope's commentary on the piece also contains his observations on how to deal with a page in the "
Wednesday Comics
" format-- you know, based on what he learned from working on that series from DC. I love when the top art people explain technical things like that. Do you?
What really jazzes me about Paul Pope doing this is... I finished reading Frank Herbert's
Dune
just a couple of weeks ago. I've read it a few times since 1984 when the
campy David Lynch movie
came out. Everyone complained at the time how difficult it was to follow the plot. I had no problem, and I immediately became both a
Dune
and a David Lynch fan. Later I realized what a mess the movie is, but I still love the art direction. I tried to watch the Sci-Fi Channel adaptation a few years ago but quit because I found myself thoroughly hating the costume designs and much prefering
Kyle MacLachlan's portrayal of Paul Atreides/Muad'Dib
to
whoever that guy is on the TV version
. TV Paul reminds me too much of
Casper Van Dien as Johnny Rico
in
Starship Troopers
and the costumes look like something out of a video for
Styx's Kilroy Was Here concept album
.
Pope writes he based his designs on "
paintings John Schoenherr did for an illustrated edition of Dune published by Berkley Books in 1977
." I have no idea about that; Pope obviously knows what he's talking about. I like the vaguely Moebius-esque look to the linework and the Lynchian take on the Fremen's stillsuits; they look cool in black with the nose plugs. Those exposed faces show poor water discipline, though.
Plus, Pope's Muad'Dib looks a little like Kyle MacLachlan, and I'm in favor of that.
I love these moments of pop culture synchronicity. And that Paul Pope enjoys
Dune
as much as I do, if not more. Here's hoping the Herbert estate puts him to work on an adaptation of the novel as soon as possible!
PS-- I learned of this from
Heidi MacDonald's blog entry over at The Beat
. If wormsign credit can go to
Duke Leto Atreides
, then we should also acknowledge the original spotter of this li'l piece of coolness.