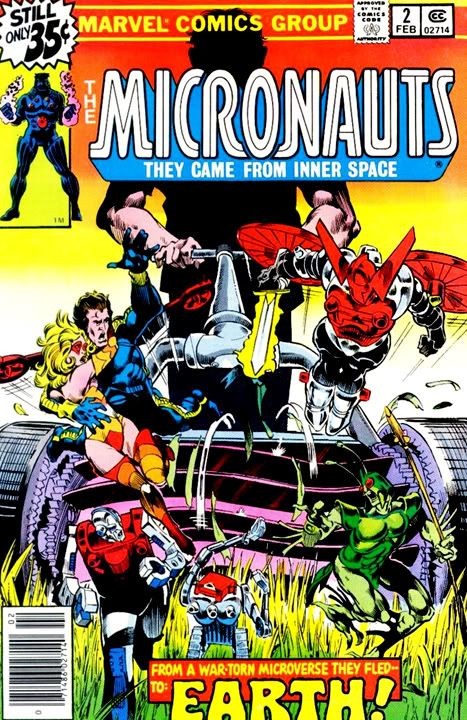 Pursued by the relentless minions of the cruel despot Baron
Karza
, the freedom-fighting crew of the Endeavour breach the Space Wall and emerge on a strange and dangerous new world-- a planet known as Earth. They fight a galumphing dog, then befriend Steve Coffin, a bare-chested, shirtless lad who hasn't any shirt, and his equally semi-nude lawnmower. Cross-cosmos relationships form just in time for a close encounter of the tiny but deadly kind...
Now here's a comic of such monumental impact in my life I remember exactly where and how it came into my possession. My brother Mark worked at a Sing Station on Stuart Avenue, not far from K-Mart and the Albany Mall. One day he took his little brother to his place of crappy employment for some snacks and I came away with a bottle of that brand-new
citrusy
taste sensation
Mello
Yello
and
Micronauts
#2. And possibly a
Twix
bar, although it may have been either a
Marathon
or a
Chunky
. Or even some Tangy Taffy. But there was definitely a
Mello
Yello
involved, back in the days when it came in an actual glass bottle and a label printed on very thin insulating foam. The year was 1979.
Mark is still nice, still my brother. And I'm still a
Micronauts
fan three decades later.
In 1979, I was neither a strict
Marvelite
, nor was a I
DCer
. My loyalty wasn't given to any particular comic book company, but rather to the titles they printed. Within two years, I'd be a fanatic about the
Uncanny X-Men
and reading mostly Marvel, but around the time
Micronauts
#2 came into my life, I was equally into
The Incredible Hulk
and
Superman
or
Action Comics
, and not too snobbish to pick up things like Gold Key's
Buck Rogers
adaptation (you know, the one with Gil Gerard). Huh. It seems the media drove a great deal of my comics buying, Superman at the movies and the Bill
Bixby
/Lou
Ferrigno
Hulkster on TV. Also, I was a huge Curt Swan fan; in fact, I still am.
Oh yeah, that's another thing about my
fannish
ways in the 1970s, also true today-- I follow artists and writers even more so than characters. And
Micronauts
would give me a new artist whose work
fired
my imagination.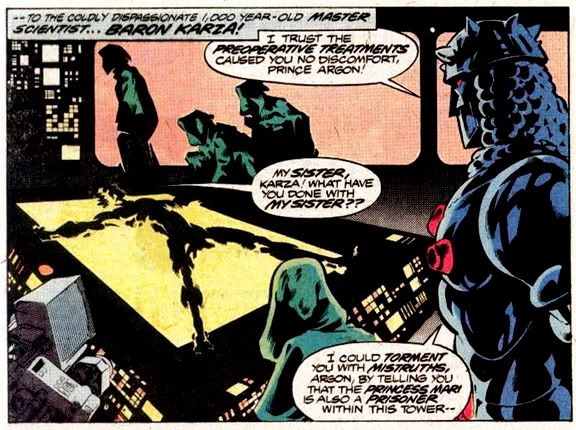 I'm talking about Michael Golden, inked here by Josef Rubinstein. What an art team! See, almost thirty years later, I'm not sure if I actually opened the comic at the Sing Station. After all, the title and the cover were enough to make possessing it a must. Despite the uncertainties of remembrances of things past, the only thing of which I'm truly certain is when I got home and read it, I went completely head-over-heels in love with Michael Golden's art. How could I not? All those high-tech settings and weird lighting and shadow effects he placed all over his characters...
Karza's
gleaming armor, the spaceships... were all the stuff of kid dreams in the
Star Wars
/
Battlestar
Galactica
/
Star Trek
movies era. I have been a Golden aficionado ever since, even when he illustrates properties I couldn't care less about!
But getting back to Micronauts #2 itself. The most exciting thing about this comic when I first laid eyes on it on the spinner rack at the Sing Station was its mere existence. Chuck "The Lucky Duck" Mancuso, my best friend, and I were Micronauts freaks in those days.
Chuck had practically every Micronauts toy, while I could merely gaze at them on the shelf at K-Mart. They were pretty pricey, and I had frugal parents. Toys were for birthdays and Christmas and only rarely for those in-between, non-holiday months. Which meant if I wanted something, I had to save up for it myself. And there were Star Wars figures to buy... and Mego Star Trek figures... and Tangy Taffy... and comic books...
Beyond the subject matter and Golden's glorious artwork, Micronauts #2 had a lot to offer an eleven-year-old idiot from south Georgia. One facet that absolutely delighted me was the way the Micronauts were normal-sized in their own universe, but scaled down to match the size of the eponymous toy line in ours. It made our toys seem almost alive. That Acroyear or Space Glider would start moving around at any moment... like now... or... NOW! Damn. Foxed again!


A linguistics note-- Bug seems to ask, "Eel?" No, my little friend, he's not confusing a boy for some kind of serpent-like sea life. He's speaking his native Micronausian language. Michael Golden often sprinkled little bits of the Micronausian alphabet in the backgrounds of his panels, and to placate curious fans, Marvel later published a translation key. However, because each letter directly corresponds to one in our English alphabet, the Micronauts must actually write in English; they just have a funky way of spelling it. Yep, that's how their supposedly alien language actually works. I wonder if anyone ever called bullshit on that and won a No Prize...
Of course the comic's scale isn't always accurate to the toy line's. The Biotron toy, if I remember correctly (and if nothing else, this series of posts has proven what an incredibly poor memory I have), towered over the other Micronauts and they could inhabit it and perhaps trash it up with their lax, loutish Micronausian ways. In the comic, he's about the same size as his teammates. And the Galactic Cruiser wasn't quite so large as Golden depicted it in the climactic battle scenes of Micronauts #2, but it was still a hefty toy. Chuck had one of those, too.
Where are the Mancusos of yesteryear?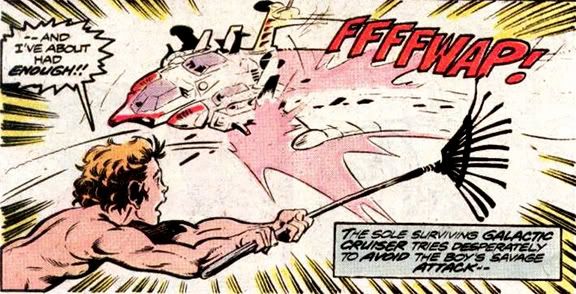 Another attractive aspect of this comic was how its story takes place in settings very familiar to child-me: Cocoa Beach, Cape Canaveral,
Daytona
Beach. I'd either already been to these places, or would soon visit them. I was a NASA fanatic in those days, and my grandparents lived in Tampa. We spent a lot of vacation time in Florida, visiting them or at one beach or another. A trip to the Kennedy Space Center was inevitable. And here was this brand new comic book taking place... in Florida!
Florida, of all places. While Batman fights crime in Gotham City, Superman flies over Metropolis and the Fantastic Four eat lunch in that fabulous American Brigadoon, New York City, who ever imagined adventures could occur in Florida, a place I actually set foot in? A place where I, on many occasions, took dumps.
Because few things bring a story's setting to life like having dropped a load in the same place yourself. In the novel Fires on the Plain, Ooka Shohei's narrator muses that our whole life sense "depends upon this inherent assumption that we can repeat indefinitely what we're doing at the moment." I agree for the most part, but I think we also get some of it from the familiarity derived from where we defecate.
When Murakami Haruki makes his The Wind-Up Bird Chronicle protagonist sit for two hours on a brick wall along a flower bed just outside Shinjuku Station until a homeless man walks up and begins haranguing him, I can't help but think, "Wow, buddy, I've actually been there, trod that exact same concrete beneath my Converse sneakers... while needing practically to run back to my hotel because I had to take a massive shit." I've crapped literally hundreds of times in hotels in and around Shinjuku Station, therefore stories taking place there are that much more real to me.
So a comic book adventure taking place in Florida? Starring toys I saw every day on my very own dresser at home? As Steve Coffin might say, "Far freakin' out!" I really don't remember if young people said things like "Far freakin' out!" in the 1970s. Among my friends, we were more likely to be using 1940s slang and referencing 1950s pop culture thanks to Looney Tunes repeats and Bugs Bunny cartoons. In fact, if I'd been assaulted by tiny spaceships from inner space, I probably would've put on my best Liberace voice and lisped, "I wish my brother George were here," without even knowing why I was acting so fey. We were still looking to buy war bonds, for Christ's sake! Another comics culture note from the 1970s-- even though the blurb at the end of the book demands that I not miss "Death-Duel at Daytona Beach" the following month, miss it I did.
I wasn't being contrarian; comics distribution was just that spotty in those days. We didn't have comic shops and pull lists in my hometown in 1979. That's why I started buying Micronauts from the second issue rather than the first; either the premiere issue never made it to the Sing Station, the Kwickee store or any of the groceries near my house, or else it was snapped up all over town by cannier comic book fans than I. And while I searched everywhere for #3, it would be years before I was able to read it, thanks to some disposable income from my job as a part-time English instructor and the inventory patterns of the local comic book shop.

So until about sixteen years ago, my Micronauts collection had gaping narrative holes. Fortunately, during the series' initial run, Bill Mantlo and the helpful editor made it easy for readers to catch up. There were little editor's notes, or else quick dialogue-based recapitulations of last issue's events. These gave a sense of continuity to the narrative, so it felt to the readers the story events were happening even after you closed the book. It would feel like forever before I found another Micronauts issue...

But it was worth the wait. With Mantlo and Golden, it always was.