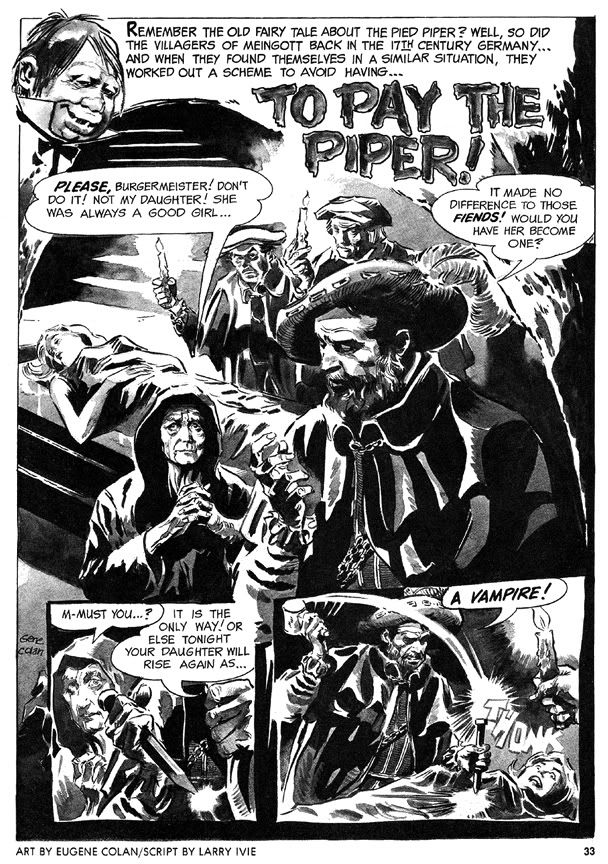 Gene Colan
,
one of my favorite comic artists
passed away yesterday
. I remember buying
How to Draw Comics the Marvel Way
way back when I was an artsy little kid with dreams of one day drawing comic books. The John Buscema and Jack Kirby examples inside were pretty snazzy, but what really fired my desire to draw were the little panels from what appeared to be some kind of horror comic. They were weirdly fascinating, like nothing else in the book-- dramatic low angle shots with figures that weren't quite as idealized as Kirby's and Buscema's, closer to realistic proportions despite the dynamic posing, their clothes all wrinkled and shadowed with heavy blacks. Atmospheric, even at tiny reproduction size.
I later learned these were from
Tomb of Dracula
, drawn by Colan and inked by Tom Palmer. From then on, I was a dedicated follower of Gene Colan's work, even when his penciled art elevated substandard writing. The pull, the appeal of a Gene Colan art job was just that strong. When I picture Colan's art in my mind, I imagine his freely distorted his figures, the challenging perspectives, amazingly rich ink washes he laid on his work for Warren's
Creepy
and
Eerie
magazines and inventive page layouts with panels like shards of a broken mirror. He was a master of shadow, of mood and atmosphere.
There are a lot of artists whose work I totally adore, but only a handful I'd give anything to draw exactly like. Gene Colan is one of those and always will be. A tremendous talent. A legendary artist.
Thanks, Mr. Colan
.