Summer is upon us and you know what that means. That's right-- swimsuit weather! Millions of Americans plus thousands of mutants, Inhumans, Eternals, Celestials, Deviants, Kree, Skrull, Shi'ar, Brood and various Greek and Nordic gods plan to hit the pools and beaches this season. But showing off one's bod can be a nerve-wracking experience, especially if said body's recently been exposed to gamma radiation or cosmic rays. That's why the New Mutants want to help their fans and fellow superbeings look their best when flashing a little flesh under the scalding sun or emerging from water after a refreshing dip. Or simply lounging under a big beach umbrella, trying to catch the eye of that special blue-furred someone.
Dani Moonstar's young, fit and fabulous so her preferred swimsuit is the one she was born in. That's all fine and dandy when doing laps in the pool at the Xavier's School for Gifted Youngsters with her best bud Xi'an Coy Manh. Ever helpful Xi'an is always on hand with a warm, dry towel.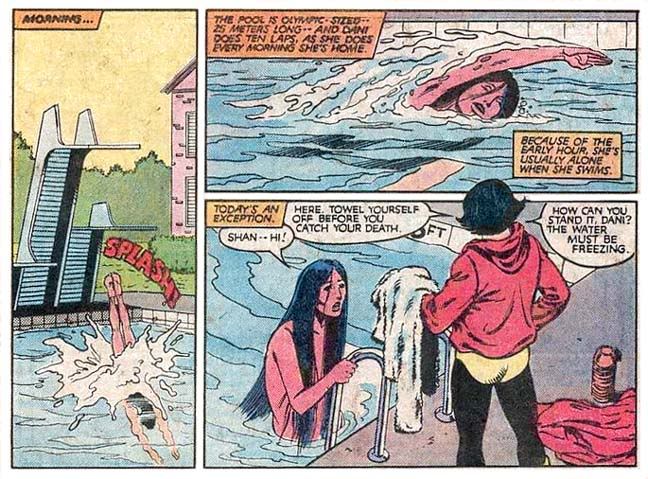 But swimming nude isn't always appropriate. Even Dani, with her clothing-optional lifestyle, knows that! That's why she always packs an actual swimsuit or two when she and her teammates head down to the Amazonian rain forest. You always want to undress to impress because you never know who's going to be watching when you impulsively dive into the piranha-infested waters of the mighty Amazon River.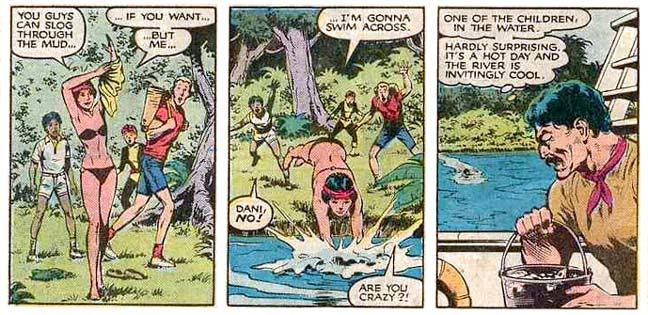 Here Dani sports a skimpy yet classy black bikini with a strapless bandeau top with a ring at center bust. As we've already seen, she's not shy. Dani believes-- and we agree-- black offers visual drama, but very little in the way of protection when a school of those carnivorous little fish makes an appearance. Whether she's cutting her way across the surface of the water with an athletic Australian crawl or fighting for her life against underwater predators, Dani is always a sensation in her black two-piece!
Rescue maneuver two? How often have these mutants practiced rescuing each other from fish, and just how does rescue maneuver two differ from the first one or the third one? Oh, forget all that! If rescue maneuver two consists of looking as fabulously hot as Dani while waving one arm in the face of danger, sign us up for the New Mutants water safety course!
It'd certainly be a shame if those piranha devoured Dani, because then we wouldn't get to see her on the sands of Rio de Janeiro's legendary Ipanema Beach in this dazzling green number. Dani has the build for this green halter strap bandeau top with side tie bottoms. It's a little on the risque side, so wear with care!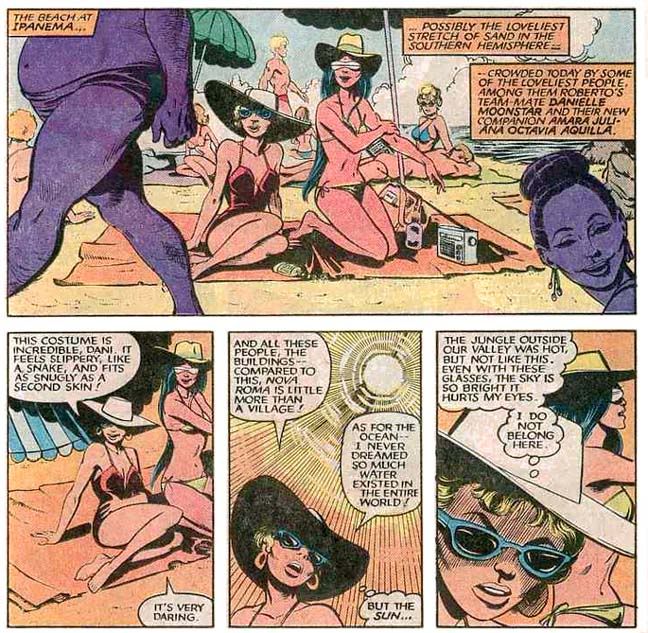 Dani loves her bandeau tops. She recommends these for anyone who shares her small-chested physique. And while it blew Dani's mind when we told her some people prefer more modest swimwear, she pulled herself together enough to suggest they try something similar to her friend Amara Juliana Octavia Aquilla's classic red maillot. The legs aren't so high-cut they're overly revealing. Amara wisely accessorizes with a wide-brimmed white hat to match Dani's jaunty yellow chapeau. Just because you're from an ancient civilization that names Apollo as one of its deities, sun-worship doesn't mean you have to court skin damage and cancers. Protect your face with a strong sun block and shading head gear, and limit your time under Apollo's rays. As you can see, the Brazilian sun is already baking poor Amara's brains!
Want to avoid the sun altogether? Then do what best bros Sam Guthrie and Roberto da Costa do: a little
night swimming
. Yes, it's skinnydipping, New Mutants style. We're already seeing a bit of Dani's influence in Sam's swimwear choice-- bare skin!
As Roberto says, Ipanema is the place to be, so let's join the New Mutants on that fabled beach once again, where the beautiful people-- in Dani's words-- "flaunt it-- with a vengeance!" And so do our young heroes.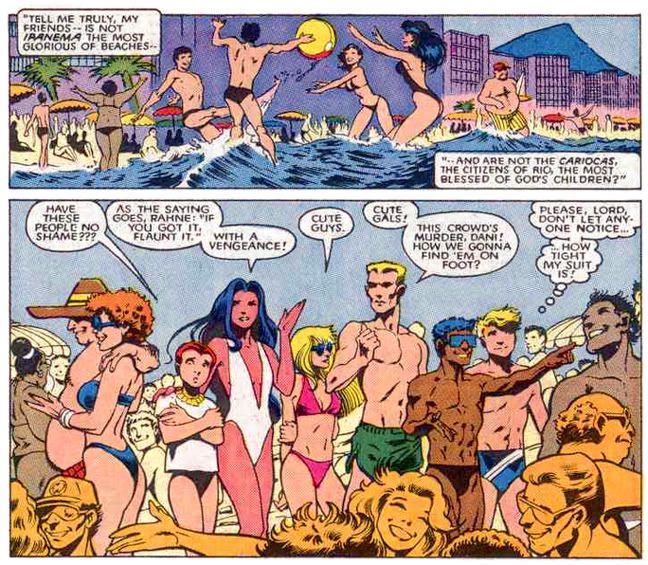 Shy Rahne Sinclair-- she of the fair Scottish complexion-- favors a sensible t-shirt cover up over what appears to be a black one-piece. In deference to her friend, Dani dials back the skin display. Just a touch; she is Dani Moonstar, after all. Here she dazzles in a white one-piece but with typical Dani derring-do. Look at that plunging neckline and those high cut sides! You may think only our Dani could get away with this, but this style is tres trendy this season, replacing the monokini we're so very over. If you've got the confidence for this brilliant backless number, Dani says, "Go for it!"
Illyana Rasputin, freshly released from the dreary netherworld of Limbo, chooses a flirty magenta triangle string top with matching bottoms. Just the thing for a half-demon/half-girl enjoying a day on the sands of the world's sexiest beach. Sam rocks some daringly short green suit in a gym style, while Roberto lives up to his native land's reputation for sensual swimwear and dons the tiniest of black Speedos. Lucky for him all that time fighting the Sentinels and the Hellfire Club and their Hellions has left him with a rippling physique. Look out, man-fans!
Meanwhile poor Doug Ramsey has made a classic beginner's mistake in choosing a suit too small for comfort. Better luck next time, Doug. You're our first cautionary tale.
And here are our next two!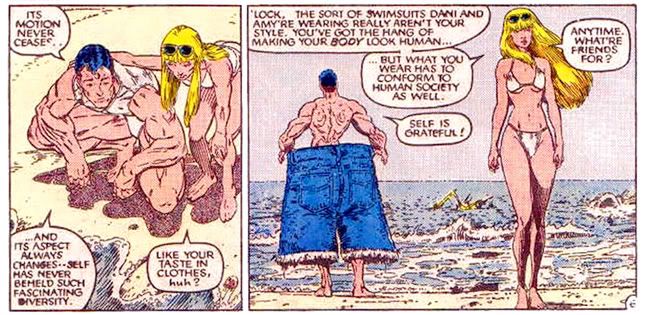 A teen dressed like a pole dancer giving someone else swimsuit advice? Ironic, huh? Illyana has quite the bangin' bod, so it would be hard for her to wrong sporting a string triangle top and bottom, and yet she does! Oh how she goes wrong! Illyana's choice of material here is unfortunate. Metallic silver is better suited for an extra dancing in the background of the Bada Bing! on TV's
The Sopranos
, not a semi-evil sorcerous on vacation on some sun-splashed Greek island.
The supermodels in the
Sports Illustrated
swimsuit issue might wear suits a size or two too small, but that doesn't mean you should. Unless her secondary mutation involves skin as tacky as double-sided tape, Illyana is one raised arm away from a nipple slip that will make her an Internet meme forever. Before spending all that money on your suit, ask the salesperson for advice on fit. Style, cut and color can't salvage your look if your suit's too small.
Or too large! While sentient alien machine Warlock certainly knows how to hunk-a-fy his ordinarily spindly circuit-covered body, those denim cut-offs approximately 20 sizes too large impress no one! Try something different, Warlock--
Oh, for the love of... Actually, that's an improvement. Rock on, Bikini-Boy! Speaking of improvements, here's Doug looking more relaxed in a pair of red swim briefs, even if they're smaller than his Ipanema suit. As we've learned from Dani, the best accessory for any swimsuit is self-confidence, and Doug is so full of it!
Speaking of Dani--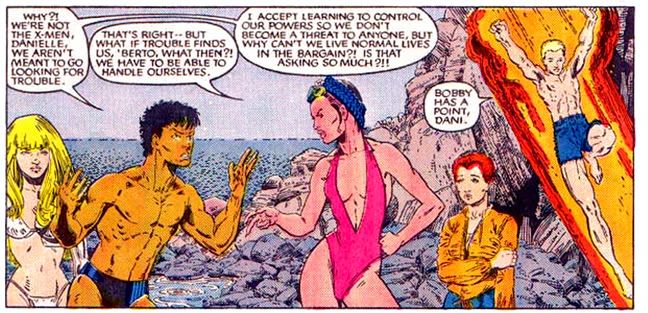 Here she is in another one-piece with an extreme neckline, this time in marvelous magenta. Dani is indeed our go-to girl for amazingly sexy swimwear looks! Rahne has covered herself again, donning an orange windbreaker over an athletic black singlet. Sam shows off his Kentucky upbringing in a pair of cut-off jeans more suited for the ol' swimmin' hole or the creek-- provided the his former coal company employers haven't blown both to hell and back looking for the black rock-- than the Mediterranean. Cautionary tale number 4!
Roberto simply wears the same Speedo he always wears. If something works, why change?
And there you have it. From naked morning swims to the swankiest resort beaches in the world to secluded islands most are too poor to ever visit, the New Mutants have got you covered. Even if they themselves aren't!