I'm still having a little trouble reconciling this characterization of the Cassandra Cain Batgirl from
Batgirl
(volume one) 7...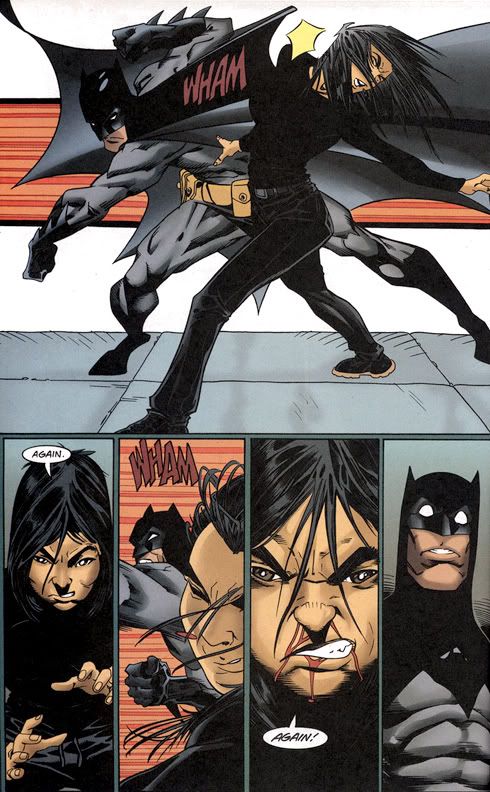 ...and this one from Batgirl (v. 2) 50...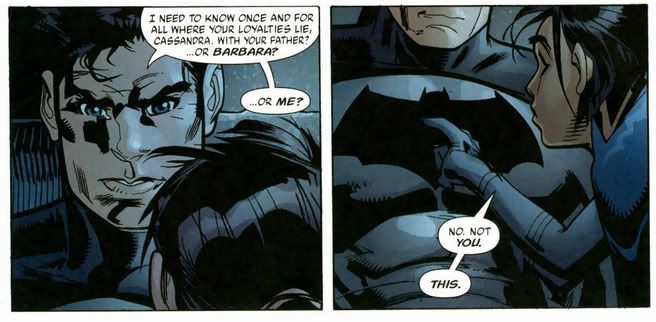 ...with this one from Batgirl (volume two) 1:



Actually, I'm just being melodramatic. It's not that difficult. These scenes are the work of three different writers several years apart, with Kelley Puckett and Dylan Horrocks dealing with a purer characterization and Bryan Q. Miller taking over after the character had been warped and "developed" and pretty much ruined by editorial fiat in the interim. Writers bring their own ideas about a character to their stories; in Cassandra Cain's case, some of these writers have been less than competent and some have been the victims of terrible decisions beyond their control and did the best they could with damaged goods.

Miller also had the responsibility of getting Cass out of the new Batgirl book as quickly as possible without accidentally setting up gaping plot holes for other writers to have to fix; we've already seen what happens when lazy writers do that to Cass.

As a fan, it's disheartening to see such a driven character get beaten down to such a lowly, dispirited state. I hesitate to call this character development, but you get to the point where you have to accept this is who Cassandra Cain is, for now. A depressed namby-pamby.
She was bound to get watered down eventually. Cass had to learn to talk and once she learned that, her language skills were bound to improve, which meant writers had to make her motivations more overt; unfortunately they seemed invariably to choose the "I want a boyfriend/to be a normal girl" schema. She began her series with plenty of psychological issues relating to her abusive father and a serious death wish due to guilt; eventually she worked through all of this by repeatedly beating Daddy up and killing Mommy. Finally, Bruce Wayne literally took over the parental role he'd been symbolically filling by adopting her. At that point, writers had to find other raisons d'etre for Cass.

And that's how Cassandra Cain became a mopey quitter after Puckett set her up as a fierce little badass in her earliest stories, unconcerned with her own wellbeing to the point of frightening those around her, including Batman.
So all of that, I completely understand. I don't like it, but I understand it. But what I truly can't wrap my head around is how this character could just vanish from the Bat-family narrative as if she never existed. Not a single castmember makes any effort to locate her or see if she's all right; no one as much as thinks her name. And now there's this new "Return of Bruce Wayne" storyline brewing and here we have a young woman who apparently shifted her personally loyalties from whatever it is Batman stands for to the man himself... and yet she's nowhere to be found now that his closest friends, allies and family members seem actively to be looking for him.

Hmm... Does this mean we're not going to get Grant Morrison's take on Cass? And we're not going to see her drawn by the likes of Chris Sprouse and Ryan Sook? I call that a missed opportunity, at least for Cass-fans.

Still, I suppose there's a slim chance the next writer who takes a crack at Cass might do something that excites her few remaining fans and reminds everyone of what a cool character she used to be.